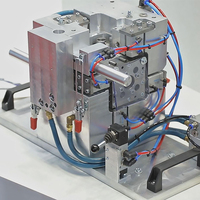 03 / 2018 – As a full service provider for PU processing, FRIMO is constantly taking on new challenges, even in very specialized areas of application. Cable foaming is the most recent example of this.
This involves full cable harnesses, which are installed in every vehicle in large volumes and sealed to the outer areas with PU. Special tools and machines were developed in order to back foam these cables. The actual know-how lies within the process of sealing the cables to the foam part.
For this purpose, FRIMO has developed a special sealing process, a so-called "carabiner-closure", which was demonstrated at FAKUMA on a testing tool. The closure squeezes the cable, which keeps the foam from coming out of the tool. This is the only way that the necessary construction quality can be achieved.
Series tools for cable foaming are made completely out of steel and are finally verified and tested at FRIMO. Checks are carried out on especially critical components in order to ensure that they display the appropriate sealing and foaming behavior. Foam is applied using a special film gate, through which the PU is injected into the closed tool by hand. The foam fill weight and corresponding tool and system sizes vary from about 20 grams for small components to 150 to 200 grams for larger components.
With the PURe Mix Eco, FRIMO offers a well-equipped, reliable, and inexpensive PU high-pressure metering machine for processing all standard unfilled 2-component systems. It offers highly precise metering with simple, low-maintenance manual or automatic operation. For manual operation, as with cable foaming, the hand bracket is designed with an especially large working radius. Equipped with intelligent controls (FIP), the centrally positioned compact control panel makes operating the device easy and efficient.
Additional production and sales locations belong to the FRIMO Group, with more than 1,500 employees in Europe, Asia and America as well as numerous international representatives. The FRIMO Group was again distinguished for excellent service. FRIMO has received various SPE Awards, known as the "Oscars of the Plastic Industry", 23 times. In 2014, FRIMO was distinguished with the JEC Innovation Award in Atlanta for the project "Street Shark" ( www.street-shark.com). The work of the FRIMO Group for the plastics processing industries includes a broad range of technologies from polyurethane processing, flexible trimming, punching, pressing and forming, thermoforming, laminating, and edge folding, as well as joining and gluing. System solutions for large-series capable processing of fibre-reinforced plastics (composite technology) are also part of the business. For this purpose, FRIMO offers its customers tailored tools, machines, and production systems as individual or complete solutions from a single source.
Contact
FRIMO Group GmbH
Martina Schierholt
Hansaring 1
49504 Lotte
Phone: +49 (5404) 886-157
Fax: +49 (5404) 886-5157
E-Mail: schierholt.m@frimo.com
Url: http://www.frimo.com